I picked out the paint colors today. Are you surprised that it took me less than 24 hours? I am! We're keeping the Legend Tan everywhere except the following:
Corn Silk-Kitchen & Breakfast room
Sea Spray-Laundry Room
Dolphin Gray-Half Bath
You can only order this blue color through Target's website. I bought Dylan new bedding there and this color was on the package as a suggestion. So I took the label to Home Depot and they color-matched it for me. I think it turned out a tad lighter, but it'll do.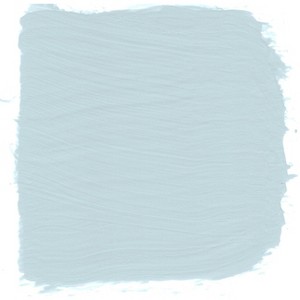 Benjamin Moore Blue Moon-Dylan's Room
Today the painter did the ceilings and started the tan in a few corners. The ceilings are looking pretty smooth, but I hope he's planning on doing another coat. In the kitchen and entryway, you can see the mudding. He said he'd probably be done by Friday.
The excavator came back today to do the storm sewer trenching. Most houses have a pipe to connect to out at the street. But we're special, which translates into expensive. There is no pipe in front of our house. We have to tie-in to the back of a catch basin, which is in the next door neighbor's front yard.
The excavator had to rent a saw and drill that could break through the concrete back of the basin and make the connection. Since this was different then how most storm sewer connections are made, it was not in the original estimate, so this is an additional expense. It took them about two hours to get the trench dug behind the catch basin since it is near all the buried utility lines and had to be done carefully. One guy worked on the back of the catch basin. A second guy spray painted the layout of the storm sewer lines and where each downspout, along with the garage drain and sump pump line would tie in.